KIRILL GERSTEIN — HK GRUBER — JOS HOUBEN — EMILY WILSON
THE PIANIST'S CABARET
Stage directors
Jos Houben, Emily Wilson
Actors
Fiamma Bennett, Guy-Loup Boisneau, Emily Wilson
ALEXANDER VON ZEMLINSKY — Ein Lichtstrahl, mimodrama for piano
Songs by KURT WEILL and HANNS EISLER
For the second part of his portrait, pianist Kirill Gerstein has dreamed up a cabaret evening in the wake of the dark expressionism of The Threepenny Opera. He will accompany HK Gruber, a renowned figure of the Vienna avant-garde, both composer and songwriter, in a collection of committed songs by Kurt Weill and Hanns Eisler. A semistaged mimodrama by Alexander von Zemlinsky serves as a prologue, directed by Jos Houben and Emily Wilson with their characteristic sweet madness. Willkommen, bienvenue !
Ticket prices: €52, €31, €15
Youth prices: €15, €9, €8
Available with ticket packages
Bertolt Brecht is published and represented by L'ARCHE
Related content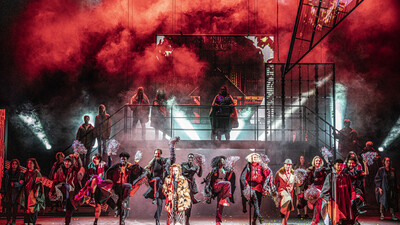 THE THREEPENNY OPERA
TEXT BY BERTOLT BRECHT AND MUSIC BY KURT WEILL IN COLLABORATION WITH ELISABETH HAUPTMANN BASED ON THE BEGGAR'S OPERA BY JOHN GAY PIECE WITH MUSIC, IN...